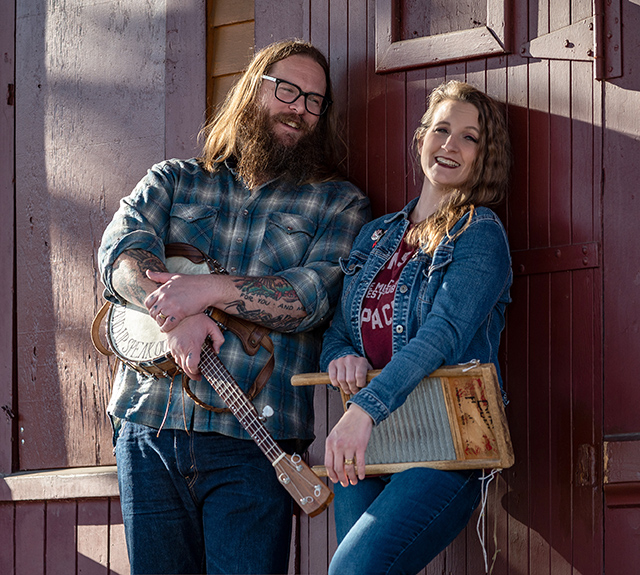 Roe Family Singers
Bonfire Music Group recording artists the Roe Family Singers are a Good-Time, Old-Time Hillbilly band from the tiny community of Kirkwood Hollow, MN. Led by wife & husband Kim and Quillan Roe, the band marries old-time sounds from barn-dances, fiddle pulls, and county fairs with the rock & roll passion of youth.
Featuring banjo, Autoharp, guitar, and Appalachian clogging, the band and family of fans have been regularly filling Minneapolis' 331 Club every Monday night since 2005. They've shared the stage with Doc Watson, Ralph Stanley, Mike Seeger, Del McCoury, Jesse McReynolds, the Grascals, Jim Kweskin & Geoff Muldaur, Junior Brown, Asleep at the Wheel, and John McEuen & John Carter Cash. In 2011 the band was awarded the prestigious McKnight Fellowship for Performing Musicians; they won the title of "World's Best Jug Band" twice, in 2010 & 2012 at the annual Battle of the Jug Bands; in 2012, won the Minnesota Duet Contest at the MN State Fair; in 2016 won the title of Entertainers of the Year from BMAI; in 2017, Kim won the clogging competition at the Old-Time Music & Ozark Heritage Festival, held in West Plains, MO; in 2018, won both Entertainers of the Year and Album of the Year from BMAI;in 2019, won Best Band, Best Band Overall, and Entertainers of the Year from BMAI; and in 2020 their song, "Don't Worry About the Rich Man," was #10 overall on the Bluegrass Grassicana charts.
The Roe Family Singers mix original music and contemporary takes on old-time, traditional, and gospel tunes into one roiling & rollicking river of fresh yet familiar American music. Every performance raises a ruckus.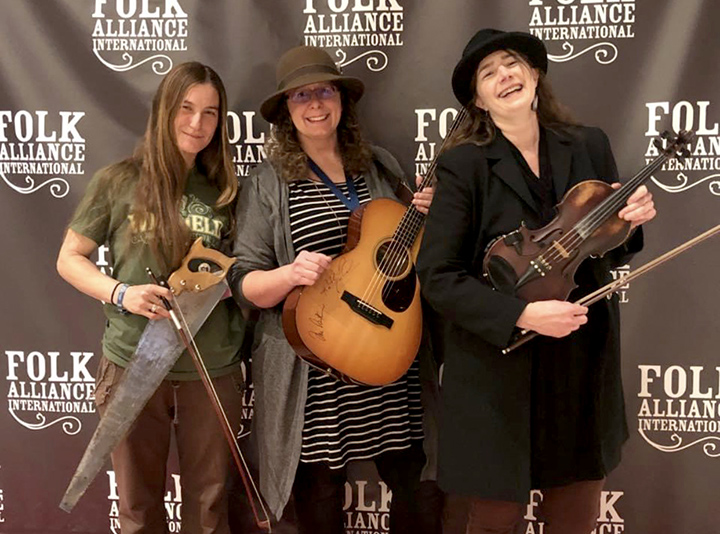 Sally Vee
Sally Vee is an award-winning songwriter and multi-instrumentalist based in the Flint Hills of Kansas who draws inspiration mostly from nature and her favorite authors and poets. She performs regularly in northern Kansas and surrounding areas as a solo artist (vocal and guitar) and with her band "Sally and The Hurts". With a degree in music performance, she has been afforded many opportunities to play in various ensembles including Mannheim Steamroller, Cirque du Soleil, countless musicals and operas, The Konza Wind Quintet, and The Salina Symphony. Sally taught secondary music education in Kansas public schools for a number of years and continues to offer private lessons to students of all ages. ​
She attends the Walnut Valley Festival in Winfield, KS where several of her songs have been chosen as category winners in the WVF New Songs Showcase competition. She has performed on several main stages and campground stages including the famous "Songwriter's Stage 11" both as a solo act as well as with her band and mountain dulcimer artist Bing Futch. During the festival, she plays Master of Ceremony to a full evening of performances called "Thursday Night Under The Lights" which features fifteen to twenty bands under a canopy of festive lights that is hosted by her camp mates. This all-acoustic evening of performances draws thousands of roving listeners through the camp and gives campground bands a place to shine.
Sally has also performed Private Showcases at Folk Alliance International the past several years in Kansas City, Montreal, and New Orleans and has received compliments from music industry legends Tom Paxton, Connie Kaldor, Rich Warren, and others.
Released on May 27th 2020, her band's self-produced debut album "Wild Life" houses fifteen original songs written by Sally including feature tracks "Wild Life", "His Name Was Jody", and "In the Grave". Sally is currently writing material to be included on the band's second album with plans to begin recording in late spring of 2023.
Sally and The Hurts is a north central Kansas americana roots trio consisting of Jamie Lee on musical saw, Megan Hurt on violin, and Sally Vee on guitar.
Ethereal saw playing, beautifully crafted violin lines, and exquisite harmonies give life to the band's original tunes along with audience-fueled stage banter that makes every concert feel like a private show.
Mission
Dedicated to the purpose of providing a platform for participation in the promotion and preservation of traditional acoustic music.